Uniform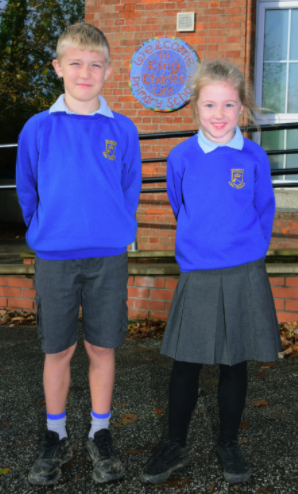 At King Charles, we're proud of how smart our pupils look. The uniform list is below.
Items marked with an asterisk are available with school branding from CASTLE SPORTS AND UNIFORM in Falmouth. Uniform in our school colours is also available from most high street shops and supermarkets. Our KC uniform expectations consist of the following below.
Please note that we do not hold any uniform or accessories stock in school.
---
School Uniform

Powder Blue polo shirt*

Royal blue sweater or cardigan*

Grey or black trousers, skirt or shorts

Black flat-soled shoes or flat soled boots or closed toe sandals (black or blue)

Royal blue or grey pinafore or pleated skirt (approx. knee length)

Blue and White Summer Dress (gingham pattern)
---
PE Kit:

Blue King Charles t-shirt*

Blue shorts or PE skirt*

Trainers or plimsolls

(Plain-coloured tracksuits can be worn for outdoor sports in the winter months)

---
Jewellery

On health and safety grounds, we do not allow children to wear jewellery in our school. The exceptions to this rule are ear-ring studs in pierced ears, and small objects of religious significance, such as a crucifix on a chain. We ask the children either to remove these objects during PE and games, or to cover them with a plaster.